CH7318C
If you have questions about the product, or encounter any, you can register the site account,
Then go to the technical support forum to ask for help.

Features
Converts low-swing AC coupled differential input to HDMI 1.4a compliant open-drain current steering Rx terminated differential output.


HDMI TMDS level shifting operation up to 1.65Gb/s per lane (165MHz pixel clock).


Enable feature to turn off TMDS inputs and outputs and to enter low-power state.


Transparent operation: no re-timing or configuration required.


Inter-Pair added skew < 250ps


Intra-Pair added skew < 10ps


Switching power only from a single 3.3V supply.


Integrated 50-ohm termination resistors for AC coupled differential Inputs.


Pass-gate voltage limiters allow 3.3V termination on GMCH pins, 5V DDC termination on HDMI connector pins.


Human Body Model ESD protection: 8kV for all output pins and 2kV for all other pins.


Level shifter for HDMI 1.4a HPD.


Integrated pull-down resistor on HPD_SINK input guarantees "input low" when no display is plugged in.


Driver's current adjustment +10%.


Inverting buffer for HPD signal


Configurable pre-emphasis level (0dB, 2.0dB, 4.0 dB, & 6.0dB)


Offered in a 48-Pin QFN Package.
Describe
Structure diagram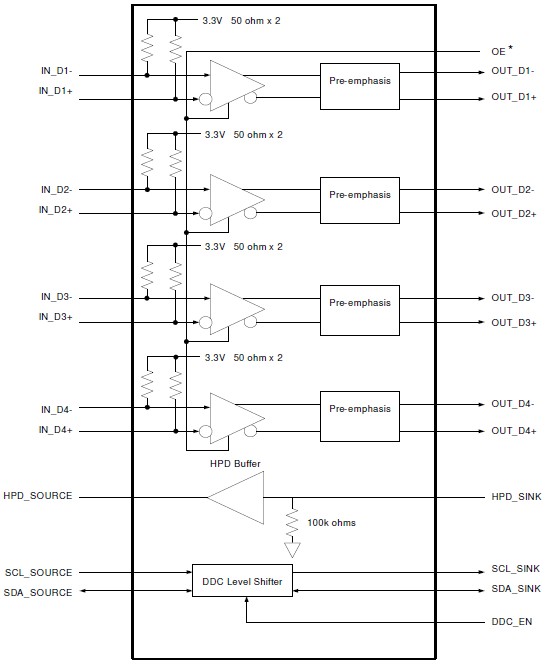 Data sheet
Application Desc
Technical Report
暂无信息
Specifications
OrderInfo
Video