CH7018
If you have questions about the product, or encounter any, you can register the site account,
Then go to the technical support forum to ask for help.

FEATURES
Support for second CRT DAC bypass mode


Four 10-bit video DAC outputs


Fully programmable through serial port


Complete Windows and DOS driver support


Variable voltage interface to graphics device


Offered in a 128-pin LQFP package







TV-Out:


VGA to TV conversion supporting up to 1024x768 pixels.


CH7018A is non- Macrovision™ version.


Two variable-voltage digital input ports.


Simultaneous LVDS and TV output.


True scale rendering engine supporting under-scan in all TV output resolutions.


Enhanced text sharpness and adaptive flicker removal with up to 7 lines of filtering.


Support for NTSC and PAL TV formats.


Outputs CVBS, S-Video, RGB and YPrPb.


Support for SCART output.


TV / Monitor connection detect.


Output video switch for easy wiring to connectors.







LVDS-Out:


Single / Dual LVDS transmitter.


Dual LVDS supporting pixel rates up to 330Mpixels/sec when both 12-bit input ports are ganged together.


Panel fitting scaler – up scale to 1600x1200 pixels.


LVDS low jitter PLL accepting EMI reduction input.


LVDS 18-bit and 24-bit outputs.


2D dither engine.


Panel protection and Power-Down sequencing.


Programmable power management.
DESCRIBE
STRUCTURE DIAGRAM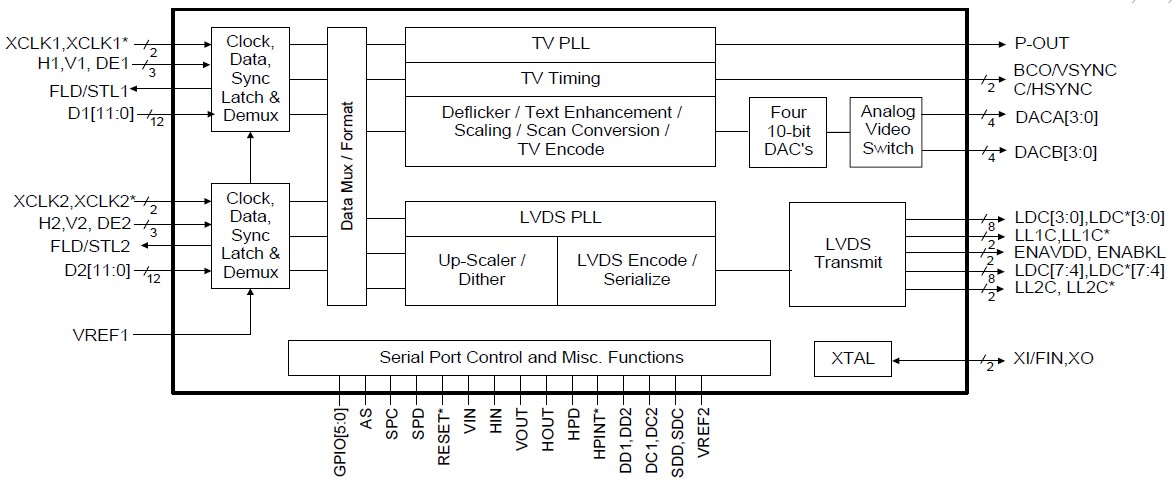 DATA SHEET
APPLICATION DESC
SPECIFICATIONS
ORDER INFO
VIDEO